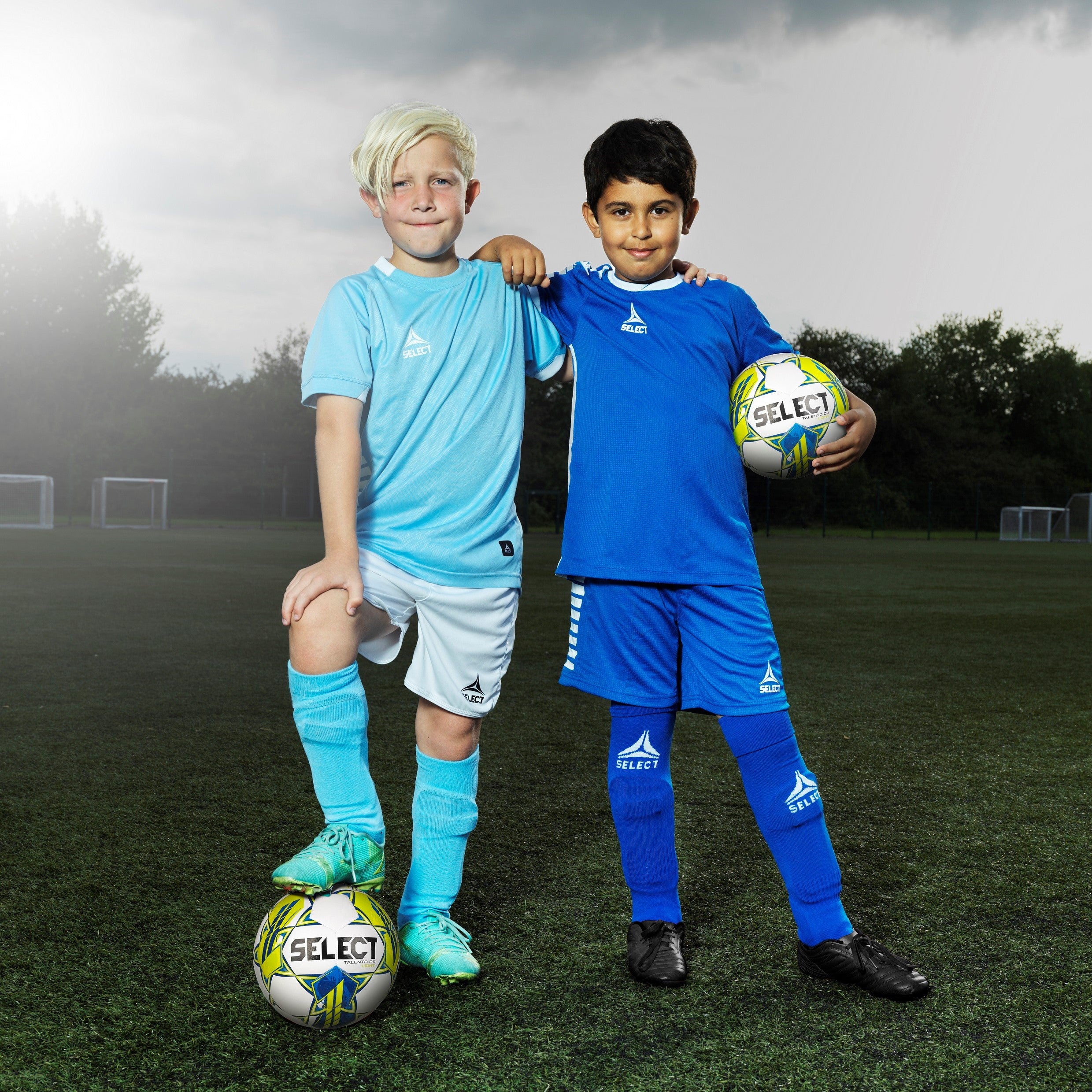 WHAT SIZE FOOTBALL DO YOU NEED?
There is over a 10-centimeter difference in circumference between the smallest and largest footballs in our range, as well as a difference of over 100 grams in weight. Therefore, using the wrong football can hinder gameplay and make it more difficult to develop the technique and ball control that are so important for advancing as a football player.
At SELECT, you can get footballs in sizes 3-5.
These are the recommendations from the Danish Football Union.
Boys:
U6 - U8 = size 3
U9 - U14 = size 4
U15 - senior = size 5
Girls:
U6 - U8 = size 3
U9 - U15 = size 4
U16 - senior = size 5
See our football size guide with measurements for our balls here.
Want to know more about how our balls are sewn together? Check out SELECT LAB here.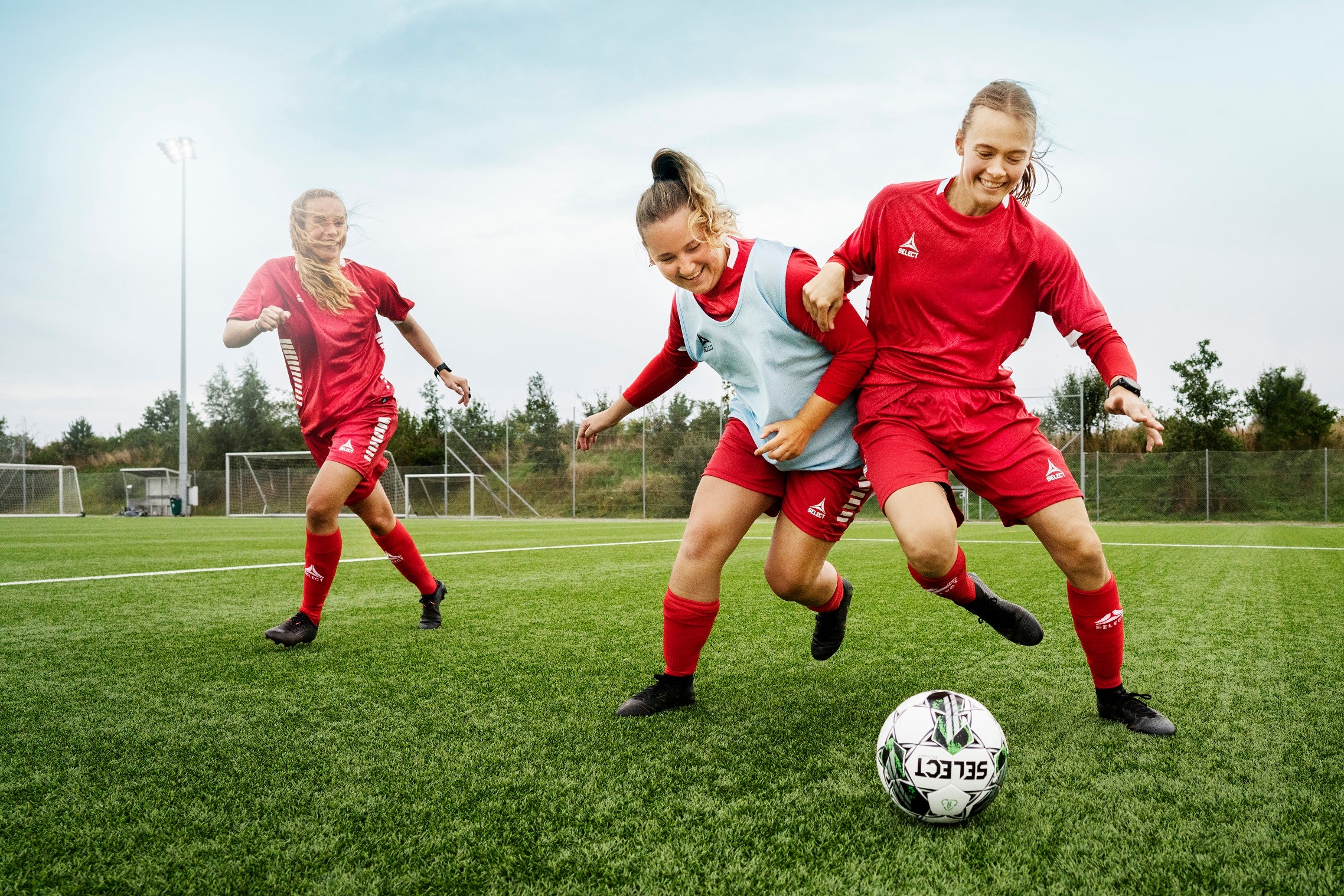 FIND THE BEST FOOTBALLS AT SELECT
A football from SELECT is an investment in high quality and durability. Thanks to our in-depth knowledge, experience, and innovation in the field, we have created some of the world's best and most innovative footballs over the years. We are proud that our legendary Brillant Super has conquered several leagues and clubs in Europe and the USA as the official match ball.
It's not just the quality that characterizes our footballs. You also get an eye-catching design with strong colors and features that, like colorful football boots, have become a popular trend if you want to stand out on the field. And it's true – vibrant colors bring plenty of energy and positive vibes.
WE HAVE A WIDE RANGE OF FOOTBALLS FOR YOUR NEEDS
At SELECT, you can find footballs in many different price ranges and sizes depending on your specific needs. When you go searching for the right football, it's important to consider not only the quality but also whether the ball is suitable for your purpose, so you can get the most out of it when playing football.
For example, we recommend purchasing an indoor football if you'll be playing indoors. And if you need to practice headers, we suggest going for a specially designed football made of a particular soft material.
Similarly, it's important to ensure that the size matches whether it will be used by children and youth or adults.
HOW SELECT CREATED THE PERFECT ROUNDNESS OF THE FOOTBALL
In 1962, our founder, Eigil Nielsen, developed a football with 32 panels, a revolutionary design in the world of football. Up until then, footballs had only 18 panels as the standard, resulting in unreliable aerodynamics. In contrast, the new football had optimal roundness, ensuring a smooth and predictable trajectory as well as controlled bouncing – a feature that football players have greatly appreciated ever since.
SELECT is thus part of the history of the world's most popular football. We sell over 3 million balls annually, and our sports apparel and accessories are sold in more than 50 countries worldwide.
SUSTAINABLE FOOTBALLS
As a global company, we are aware that our actions have an impact on the world around us. Therefore, we consider sustainability and environmentally friendly initiatives to be an essential part of our journey. For instance, we have taken steps to reduce our use of plastic and incorporated both recyclable and plant-based materials in many of our products.
Learn more about our sustainable and environmentally friendly initiatives here.
FIFA APPROVAL
See what the different FIFA football approvals mean.
The emphasis of the test requirements is on first-class performance, accuracy and safety. Products, playing surfaces and technologies with this quality mark are designed for optimal performance and use at the highest level.
The test requirements emphasize the durability and safety of these products, playing surfaces and technologies more than for the FIFA Basic standard. Basic performance and accuracy criteria are tested, but the main focus is on ensuring extensive use.
The test requirements for this standard are designed to identify products that fulfil basic performance, accuracy, safety, and durability criteria for football. The focus is on setting minimum standards while ensuring affordability for use at all levels of the game.
OUR DIFFERENT FOOTBALL CATEGORIES
Click on the category to learn more.
​This range of footballs are used for football matches played at top professional level.​
The Youth Line footballs are suitable for Club-level matches and training.​​​
​This range of balls are suitable for club-level matches and training.
The footballs in The Indoor Series are lighter than normal footballs and therefore easier to control when playing indoors.
The Leisure Series consists of a number of all-round footballs that are ideal for playing with on the street, in the garden or in the school playground.
The footballs in The Special Series are used for various goalkeeper excercises and for outfield players to practice headers with.​
Our footballs Flash Turf and X-Turf are ideal for trainings and matches played on artifcial grass.
Just the right football for freestyle. The ball has a rough surface, which makes it easy to do tricks with.